Since the Project is very popular and I get a lot of inquiries , it is necessary here to clarify something.
The newest Firmware is on this side at the end as a link ! So please don't ask me to send firmware! Thanks !

So please READ every LINE on this side !!! 
I'm NOT the Author of this project!!! For questions like eagle files or changing parts in the circuit, please ask DG7EAO !!!

I does not selling parts or finish analyzers
Software support no matter of course . This is a private project and I have a 12 hour job. If I like, I will answer your mails. But you can not count on it!!
When the source code of you will be changed , or other hardware is used, I will never help you. 
I give no workshops in any programming language

I'am not searching your bugs in your circuits. Be sure that the software is well testet, by over 50 OMs and ok. Use my firmware or leave it.
Sorry for that rules, but a lot of OM's can't read. Every RED rule have a reason with some mails. It must be easier to write a mail, as reading the project files ! I got over 50 mails, with questions, what can easy answered by this side and text file in the ZIP File.
So now we start….
I find in the internet a very interesting Project. He build with Arduino Modules a good Antenna Analyser.
Here you can download all information over the Basic original project:
http://dc2wk.schwab-intra.net/Arduino Analyser Schematics.rar
http://dc2wk.schwab-intra.net/Display Addon.rar

This is a project from DG7EAO. Thanks a lot to him!
The old page is deleted, I don't know why. So I saved this schematics for us.
But I find a new page from Norbert: http://www.dg7eao.de/test/antennen-analysator/
To download my version of the firmware, see the link after the article.
I ordered the parts and start to build this little project.

For the modules I take IC-Sockets

The modules are installed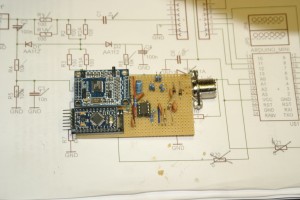 The finish analyzer

The underside

The test of the DDS Signal

Works fine
Test measuring's:

A Sirro CB Mobile Antenna

A DL7IO Hexbeam 10-20m

A Butternut HF5V Vertical 10-80m

You also can check a LC resonator

Here with a frequency from 12.088 MHz (0,9uH + 300pF)
The Costs of this project, without a case,  was:
The Arduino Modules:
| | | | |
| --- | --- | --- | --- |
| 1x | USB auf RS232 TTL UART PL2303HX Converter Adapter Cable CP12005 F44 | 5,20 EUR | 5,20 EUR |
| 1x | Pro Mini Atmega328P Board Modul 5V/16MHz for Arduino-Compatible AR01011 J32 | 7,82 EUR | 7,82 EUR |
| 1x | AD9850 Module DDS Signal Generator 40Mhz CP13010 D54 | 10,99 EUR | 10,99 EUR |
Other Parts:
6x 100 Ohm 1%, RM 7,5                                                                         0,30 €
2x 10 K    RM 7,5                                                                                     0,06 €
2x 100 K  RM 7,5                                                                                     0,06 €
2x 4,99 K RM 7,5                                                                                     0,10 €
2x 649 R  RM 7,5                                                                                     0,10 €
1x 1u RM 2.5                                                                                            0,10 €
2x 100n RM 5                                                                                           0,10 €
3x 10n RM 5                                                                                             0,30 €
1x LM358                                                                                                  0,19 €
IC Sockets                                                                                                0,50 €
2x Germanium Diode AA143                                                                    2,20 €
Cables                                                                                                       0,50 €
PL od BNC Jack                                                                                        1,50€
circuit board                                                                                               1,50 €
All together:                                                                                            31,52 €
Update 1:


I build a case out of circuit board material

This is the front, place for the display later
The Cable on the left side is only connected if the analyzer is in Computer mode
As a stand alone analyzer there will be a battery case installed.

The underside. The case its 100% RF proof

With the RF Proof case, the measuring is near to that what I see with my transceiver.
Here the Butternut HF5V Vertical 10-80m, like some pictures before.
I also made a Battery Case with a 5V power supply and a 9V battery


A 7805 and a electrolyte capacitor, that's all

Special lock mechanism 🙂

Battery pack is plug in …

…and it works 🙂
Update 2:

My display is arrived 🙂  I test it first with my second arduino. If you build it on a test board like that, it will not be stable. For a short test it's OK. The computer hangs often times. So keep your cable very short and work with shields!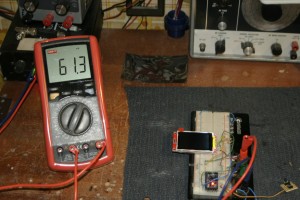 The current is with the display together 61 mA. So my 9V battery is maybe to small.

So I build it in. This is more stable as it looks

Display and switches in the case

The Scan with my Butternut

The same Scan with the software over USB, this still works 🙂
In the following Pictures the Resolution in the Firmware was max. SWR = 5.
I change it later again to max. SWR = 10, that I can use it as a Dip-meter.


I modify the firmware so that I can switch over the complete band in details. Here 80m.



In the battery-pack I have now 2 accumulators with 3.6v and 1600mA together, so that I have over 7V. With the 7805 I make the 5V for the tester.  I charge it with 9v. This is a 10m Mobile Antenna.
Update 3:

I add a third knob and a front plate. This third knob is connected to PIN4 and GND!
The Knobs are in my own firmware:
The first:  2 MHz up in a 3 MHz range (Detail sweep)
The second:  2 MHz down in a 3 MHz range (Detail sweep)
The third: Overview sweep from 1-30 MHz.
And I add a lost in % in the first line.
It's very important that you are using exactly the same parts and modules!!!!!
A Firmware what is write for this Arduino and Display, will not work with a other!!!!!!!!!!!!! It only works with my three knob version!!!
Here you can download my own version of the firmware:
http://dc2wk.schwab-intra.net/DDS_sweeper1_TFT_swb.zip
And here my own version of the windows tool:
http://dc2wk.schwab-intra.net/VNA_Programm.zip
Videos:
Here the Resolution in the Firmware is max. SWR = 10.