In August 2012 I start with building linear's. I start at first with one Russian GI7B tube. I finished it in December 2012. I have no pictures any more from the building phase, but I can show you what I have.

Here is the look from this linear. I hat a Drake antenna tuner in this time, so I made the Drake look 🙂

The under side from this linear



In input circuit of the GI7B tube

The net filter on the 220V side

A complete overview

The tube was in a cooling case. The PI-Filter hat two switchable coils, because the roller induct-or was to small.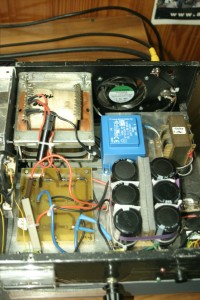 The power supply side with near 2000 Volt

The bias circurit
With this linear you can make 350-400 Watts on SSB.
Here you can download the schematics from the RF part: HF Teil.sch
Here you can download the schematics from the power supply: Netzteil.sch

Here is the schematics for the bias control
I sold this linear, after a longer usage.