In my youth, end of the 70ies, it was my dream to have such a radio. Today I know that it is one of the worst radios that existed. I love it now, to have one 🙂
I looked a very long time for one of that radios. I wished me a TS-788DXcc, but this one the TS-780DX is harder to get as the TS-788DX. I had the luck that in the Ham Radio exhibition, one was sales. I got it for 100€.
The mike was strong modified with a lot of holes in and broken. So I throw it away.
Its seem to be not possible to get one of the "service manuals" with alignment instructions.
So I find out all alignment points by my self in the circuit layout.
And here they are…


The interesting alignment points on the under side

The interesting alignment points on the upper side

AM modulation factor, at 60% the modulation

is clear with a 1kHz sine wave. More AM modulation will disturb the modulation
The TS-780DX can not use FM with modern radios together! Its an very old FM standard
what use the 1.5 KHz filter from SSB. That does not working very well.


FM frequency deviation, 1.5KHz. That's the max what this filter can handle
If you adjust more, the the FM Mod is strong disturb.

FM modulation clearness. They are still spikes on the sine. And so it sounds.
But it works not better, without a big modification.
You can try to get the FM receiving clearer with the FM filter (see upper side alignment pictures at the left side).
The SSB ist very good, for that the radio was build


Two tone Test in SSB, looks very good so far. If this is not clear, see at the bias and the ALC.

The maximum power in SSB, 100W, on FM 45W and on AM 20W with upward modulation to 50W
The Frequency is drifting with the temperature of this radio very high. I measure a difference from 700 Hz! So you can try to get it better. But with the temperature in your room, the frequency is changing. We have in Germany a proverb: "Sie läuft wie ein Feldhase" Translation "It runs like a hare" 🙂


AM/FM Frequency, that 10 Hz to high. very good

The SSB frequency I check with a 1Khz test tone. So that frequency is the offset

USB Frequency is 30 Hz too low. Good enough.

LSB Frequency is 130 Hz too high. it will works. You will not often use LSB

Front view with open case

upper side inside with the main board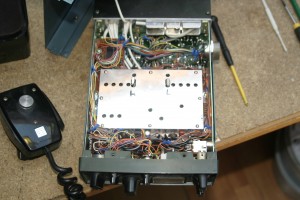 under side inside with the VXO

Front view


Self made mike with volume control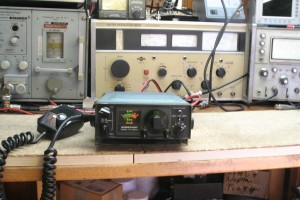 in action 🙂
With this crystals the frequencies are:

If I get the right color, I will paint the case new with Sommerkamp blue.