From a Friend I got the NVA Transceiver R-107T. He is in a pretty nice condition and he works great. R-107 T is a backpack, used portable and mobile . Operating mode is F3, simplex. It can be operated by remote control, be used at relay operation and as telephone. It co-operates with R-111, R-113, R-114d, R-105d to 109D and R-105m to R-109m. Its build in the 70ies.
Frequency range:
20… 52 MHz within 2 ranges:
range 1: 20… 36 MHz
range 2: 36… 52 MHz
Modes: FM
Mass + weights: Radio: L/b/h: 375 x 1850 x 270 mm; 16.9 kg
Transmitting power: 1 Watt.
Frequency departure: +/- 6 kHz, which can be controlled with the inserted xtal calibration generator.
Sensitivity: under 1,5 UV with signal-to-noise ratio of 20 dB
Accessories: Kulikow antenna, attachment framework and Telephone handset.
Batteries: 2 times HKN-20. I use 4 x 1.2V 10000 mAH Mono cell accumulator.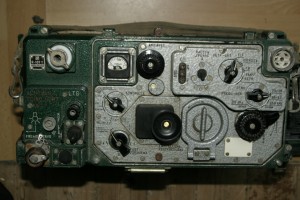 The front

The inside of the front cover
Some pictures from inside the R-107T: