I bought the HF5V for only 100€ with shipping. All band works great, only on 80m I had a problem with the SWR what goes alone high. I showed this problem in a video (at the end).
So I open the antenna and checked inside the tube capacitor. Here is the video from the inside view.

The under insulator is broken too

I open the tube capacitor to see how I can fix it
Everything is clued 🙁

The Capacitor has 300 pf in cold condition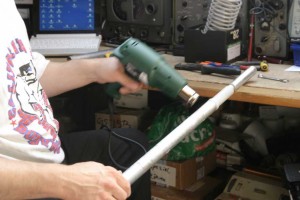 When I warm it a little bit up…

… I goes up to 380 pf !

So I checked out how with the 80m coil works. Its starting from 100uH …

… up to 4 uH

I try to make it like at the new HF6V. This is, for test only, a 470pF capacitor.

I got a polyamid pice, what I can use as a insulator for the new tube.

After some minutes

It take 30 minutes to made it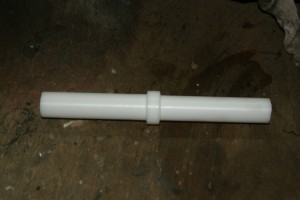 One piece is finish. This is the uppers one

I montages  between the both new tubes

Here it is
Here is the new Capacitor:


330pf with 20KV, a huge one with 8cm diameter 🙂
The new SWR with this repair



Not the optimum, but it works.
to be continue…