In my youth, end of the 70ies, it was my dream to have such a radio. Today I know that it is one of the worst radios that existed. I love it now, to have one 🙂
I looked a very long time for one of that radios. I wished me a TS-788DXcc, but this one the TS-780DX is harder to get as the TS-788DX. I had the luck that in the Ham Radio exhibition, one was sales. I got it for 100€.
Type:
Citizen band/freeband/export transceiver
Frequency range:
26.325-27.855 MHz
Channels:
120
Mode:
AM/FM (not usable)/SSB/CW
Frequency control:
PLL
RF Power output:
AM Hi: 100 W PEP (25 W carrier/dead key), Lo 2W
FM Hi: 100 W, Lo: 2 W
SSB Hi: 100 W PEP, Lo: 2 W
Receiver system:
Single conversion superheterodyne
Sensitivity:
4 KHz (-6 dB), 7 KHz (-60 dB)
Selectivity:
4 KHz (-6 dB), 7 KHz (-60 dB)
Image rejection:
>50 dB
Voltage:
11-16 VDC
Current drain:
RX: Max ? A
TX: Max 20 A
Impedance:
50 ohms, SO-239
Dimensions (W*H*D):
156*61*290 mm
Weight:
3.5 Kg
Manufactured:
Japan, 1979-198x (Discontinued)
Other:
MRF454 PA final transistor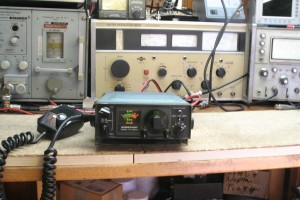 Fresh align and working

The self made mike with volume control

A very nice Radio

I can use it with this frequencies.
See the TS-780DX allignment site on my blog:
http://dc2wk.schwab-intra.net/?page_id=1181