I got from eBay a PRC-6/6 (Banana) Military Squad Radio. It was build in October 1961. The PRC-6 (the U.S. Korea and Vietnam radio) you can get often by eBay, but the german one I saw not so often. So I bought it for 50 €. The seller wrote, that he can't test it, so he sell it broken.
The first what you need is a battery for it. Normally you must have a BA-270/U. But you can't buy it any more. So I mus build this by my self.
This battery specification can be downloaded from the website:
http://mil-spec.tpub.com/MIL-B/MIL-B-18-75D/MIL-B-18-75D00001.htm
I made one out of plastic. I heated it and bent it to the dimensions from the specification.

The socket is a 7 pin octal tube socket.
The battery has +90V, +45V, Minus (for 90+45V), -4.5V and +1.5V. See the the specification. Installed are 10x 9V battery block, 1x 1.5V mono cell and 3x 1.5V mignon cell.  I pay for all battery 8 € by pollin.

It fits 100% in the Radio.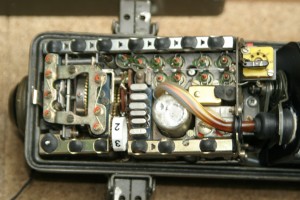 After that I can try the first time the radio out, and it was broken. I Checked all tubes (measuring the header) and I saw that 2 tubes are broken. I ordered a near complete set of new tubes (NOS) from a German dealer for 12 €. After that I solve a contact problem by the channel switch and the radio works 🙂

The crystals are from my craft crate.
The frequencies are in the moment:
1: 45.900 MHz
2: 49.130 MHz
3: 49.180 MHz
4. 51.980 MHz
5: 53.490 MHz
6: 54.900 MHz
The crystals can you calculate with: Frequency – 11.38 MHz = crystal frequency.
But I look for crystals in the 6m band. From 38.62 MHz to 39.62 MHz.

After you installed a crystal, you must set up the frequency with that scale. You must use the four socket head cap screw.

The original handbook I bought for 16€ brand new and unused.


The German caption.
So my price for a working PRC-6/6 was app. 90 € with battery and handbook. Maybe a little bit too expensive, but the antique heart that does not matter 🙂